Geography Field Trip to Tentsmuir Forest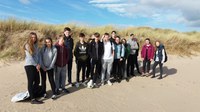 On Tuesday the 3rd October a group of National 5 and Higher Geography students led by Mr Hutton , the Principal Teacher of Geography, went to Tentsmuir Forest.
The aim of the trip was to gather data which will help them to write their respective assignments which is worth 20% of their total mark at National 5 and 30% of their marks at Higher.
The day was an outstanding success as we gathered sufficient data and as can be seen in the photo, the sun also made an appearance!
A special thanks to Mr Cormack who drove the mini bus.
N. Hutton
PT Geography