Leng Medal Success for Katie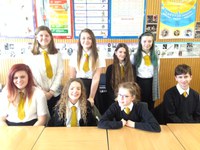 Congratulations to Katie Walsh who won this year's Leng Medal singing competition.
Katie said, "I took part in the Leng Medal competition and some of my friends also did it. Since January we've been practising our Scottish song with Mrs Milligan. Mrs Muirhead came from Morgan Academy to judge our singing and I was delighted to win the competition."
Photo shows the Craigie pupils who competed.