Modern Studies groups visit prisons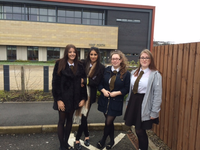 Advanced Higher Modern Studies pupils visited HMP Perth as part of their Crime and Law in the UK studies. After getting through security which was quite daunting, the girls had a thorough tour around the prison. This involved looking at the newest and oldest parts of the building, being locked in a cell, experiencing the prison from a variety of perspectives - inmate, prison officer and family visitor.

The visit was thoroughly enjoyable and will stand the girls in good stead for their final exam and dissertations. As the tour was so thorough and informative, pupils struggled to ask questions as they had already been answered!
In the afternoon four S4 pupils and Mr Tolland joined Mrs Mason and the AH girls at HMP Castle Huntly where they met prison staff and prisoners to find out about the change from closed prison (HMP Perth) to open prison surroundings where prisoners are free to move around the estate and the emphasis is now on preparing them for their release. The whole is experience was certainly very humbling.

The pupils spoke with prison officers and prisoners who shared their experiences, both positive and negative, which helped in understanding the prison system and its successes/failures in greater detail. All of the staff and prisoners encountered in the visit were extremely welcoming and made the visits seem a lot less daunting, given the public perception of prison.