Pupils Support Foreign Seafarers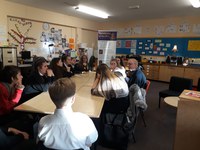 Doug Duncan, chaplain for the port authorities, based in Aberdeen, visited Craigie to collect a parcel of gifts, crackers and cards produced by Mrs Leiper's S3 elective class (as well as tablet produced by staff). These will be given to seafarers that come into Dundee over the festive period, many of whom have been away from their home/families for many months.
He explained some of the challenges and difficulties faced by seafarers from as far away as the Philippines and Russia. He described how many of them worked long hours in crampt conditions to provide their families with an income and that we should appreciate what we have and do our best at school.