School Show - Tickets now on sale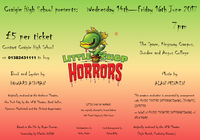 Tickets for Little Shop of Horrors will be on sale from Tuesday 9 May 2017. They will be on sale in the middle circulation area at break time on Tuesday and lunchtime on Wednesday. Tickets cost £5.
They are also available via the school office and Parent Pay.
Get them while you can!