English
Principal Teacher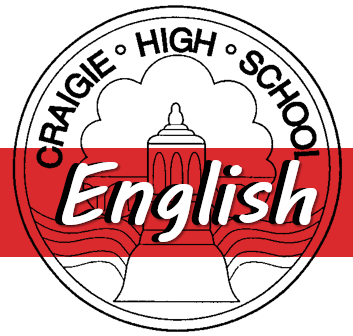 Mrs S Haddow

Department Staff
Miss M Brough
Miss J Corbett
Ms F Karathanou
Ms M McDermott
Mr M McIntosh
Mr J Mitchell
Mr A Robertson
Ms K Thomson

follow us on Twitter https://twitter.com/CraigieEnglish
Our Vision
"Our aim is to create a safe, productive, supportive environment in which both attainment and achievements are encouraged and celebrated"
Welcome to the Craigie High School English Department – so much more than books! Imaginations are explored, key activities abound and an overall enjoyment of literature and language is fostered.
Course Information
The English department provides a wide range of courses to cover all abilities:
S1-S3: Broad General Education
Senior Phase: National 3, 4, 5; Higher, Advanced Higher.
Curriculum for Excellence
Rationale:
Craigie High School English Department is committed to helping our pupils achieve their full potential in English and Literacy in preparation for the Senior Phase and beyond. We deliver a curriculum which aims to meet the needs and abilities of all of our learners using a wide variety of texts, activities and experiences.
Junior Phase S1-S3
S1 Course - Introduction to skills
S2 Course - Improving Skills
S3 Course - Preparation for the senior phase
Senior Phase S4 – S6
We successfully prepare and present our pupils for:
National 3. National 4 and National 5 qualifications in English and Literacy

Higher and Advanced Higher English

National 3, National 4, National 5 and Higher Media
Support for Learning
We work closely with our colleagues in Support for Learning and have developed courses to meet the needs of all our pupils. For instance, we use the Fresh Start reading recovery programme to improve the reading abilities of those pupils whose learning has been affected by dyslexia, illness, bereavement, family break-ups, etc.