LGBT Charter Mark
LGBT Charter Mark
Craigie High School has now achieved LGBT Schools Charter Mark Bronze level, a programme created to support and guide Schools and Education Authorities on their journey to LGBT equality and inclusion. We are the first school in Dundee and Tayside to gain the award, which is a fantastic achievement. Our next steps will be to achieve the Silver level!
By raising awareness and increasing visibility of LGBT people, Craigie High School is dedicated to ensuring that all LGBT people are valued, respected, included and supported.
By displaying the LGBT Charter of Rights, we send a positive message to LGBT people in our school that they are included, valued, supported and will be treated fairly.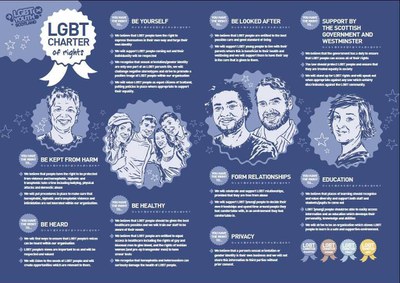 The Equality Group
The Equality Group has staff and pupil representation and is open to anyone with an interest in LGBT issues. It aims to raise awareness and break down the barriers that prevent LGBT pupils achieving their potential. The group meet most Wednesdays during lunchtime. For more information or if you are interested in joining the group please contact Mrs Innes in room U24 or on 01382 431111.